Physical Gold vs. Gold ETFs
Physical Gold vs. Gold ETFs
Gold ETFs are securities and do not give you direct ownership of gold. At Gilded, the gold is your title, your property, and never part of the financial system, but has all the functionality of cash.
When it comes to investing in physical gold, you know exactly what you are buying and you get what you pay for. Gilded provides direct ownership, with the ability to take delivery and all the functionality to be able to borrow against your gold, earn a return on your gold, pledge your gold, or just safely hold your gold in a fully insured, and independently audited Brink's vault.
While Gold ETFs have risen in popularity among investors due to their perceived convenience, the Gilded platform offers similar convenience and everything an ETF can do with more functionality.
Investment Strategies
Resilience and Flexibility With the Gilded Platform
Unlike ETFs, investing in gold on the Gilded platform gives you fully allocated physical gold that is bankruptcy remote and held outside the banking system in insured vaults. With Gilded, delivery can always be arranged and fees are structured so that your gold holdings are not reduced over time due to fees. Here are some of the problems an ETF may encounter, and the solutions you'll find when taking the long view with Gilded gold.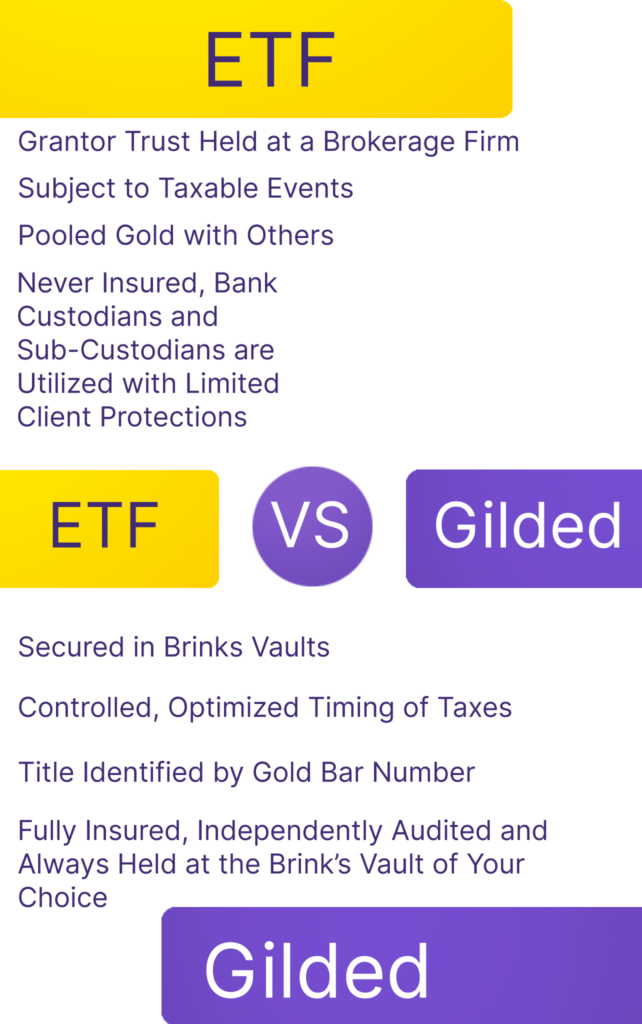 Comparisons
Gilded Gold is Superior to Paper Gold
Ownership Structure
Title to Gold
Fully Insured
Free of Counterparty Risk
Insulated from Financial System Risk
Privacy
Bar#, Certificate of Authenticity
Protected from Reduction in Gold Holdings Due to Fees
Ability to Choose Vault
Gilded Gold
Outright Title
Gold ETF
Grantor Trust
Gold Funds
Securities
Gold Futures
Futures
Gold Stocks
Securities
Source: Gilded Analytics
Our Guide
The Financial Advisor's Guide to Gold in Portfolio Allocation
You've decided to advise your clients that gold is a strong vehicle to help them meet their investment objectives. Popular gold ETFs offer an accessible choice, but is this the best way for your clients to own gold?
Security, Safety, Direct Ownership: Move Beyond An ETF To Functional Gold.
Start investing with Gilded now.